A Family Affair – Former MGA Amateur Champ Deutsch Leads Foursome to Net Team Title
September 4, 2019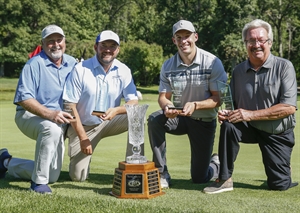 By Nick Hunter
nick@mngolf.org


NISSWA, Minn. – Stringing together five birdies over their final five holes Wednesday, the foursome of Eric Deutsch, Tim Deutsch, Pat Deutsch and Opie Williams rallied to claim a three-stroke victory at the 27th Minnesota Golf Association Amateur Net Team Championship at The Pines at Grand View Lodge.

Entering Wednesday's final round with a four-stroke advantage after carding a round of 132 at The Preserve at Grand View Lodge, the tournament shifted venues while Deutsches and Williams posted a final-round team score of 133 capture the victory over Larry Bodensteiner, Ken Gerzsenyi, Dave Norgaard and Dave Krolak, firing a 36-hole total of 23-under 133.

"It's pretty interesting for us. One, we all work together," Williams said Wednesday. "Obviously Pat, Eric and Tim are father and his two sons, and for me to be able to spend two days with them up here playing golf, the camaraderie was great and a win is icing on the cake.

"We had a lot of fun playing, this is our second year playing and we enjoyed our time up here. We continued to play to the finish and said we'll see what happens."

This season Tim Deutsch replaced Tim Felton on a team that finished eight shots back a year ago, tied for eighth place at 7-under 281.

"It's not often I get to play a real MGA tournament with my dad," Eric Deutsch said following his team's victory Wednesday. "Also, my brother and the president of our company, so it's kind of a special time to do something competitive with people you work with and hang out with—that's the fun part."

Helped by a pair of early birdies and an eagle to begin their back nine, Bodensteiner, Gerzsenyi, Norgaard and Krolak pulled into the lead by two strokes momentarily before the late surge by the eventual champions late Wednesday.

"I told my dad that I don't want to lose and we needed to try to make some birdies," Eric Deutsch said. "We got fortunate that they had a few bad breaks coming down the stretch, but we made a couple putts and came away with it."

Wednesday's victory is the first for Eric Deutsch since claiming the MGA Amateur in 2004 at Northland Country Club. He also won the Twin Cities Championship and the Class A Individual title in 2002 during a Rochester Lourdes dynasty that claimed five state team titles in six seasons.

Eric Deutsch paced his team during the opening round Tuesday, shooting 1-under 71 at The Preserve, and again Wednesday by carding a round of even par 72, including two late birdies, while father, Pat, carded a net birdie on his 16th to help secure a late, come from behind victory.

Williams contributed with an opening-round 79 Tuesday and bettered his score by three strokes during the final round in a winning effort. Williams carded three birdies to begin his final nine holes Wednesday, while Tim Deutsch added a net birdie on his 16th hole to help preserve the win.

The foursome of Steve Bloom, Ken Basten, Marty Mangold and Sean Keegan tied a tournament-low Wednesday, combining for a team score of 12-under 132 to finish in third place, five shots off the lead.