A Late Eagle Boosts Kucera to First Career Win, Holding off Holmgren and Israelson at State Amateur
July 17, 2019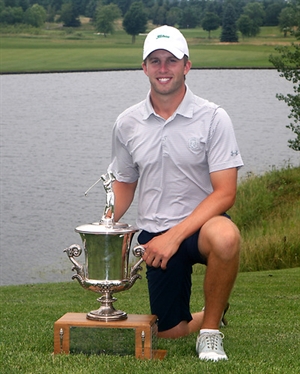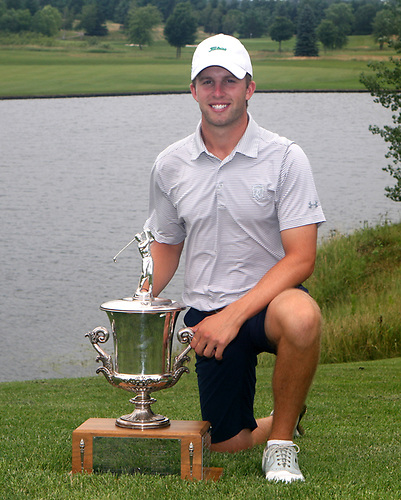 By Nick Hunter
nick@mngolf.org


BYRON, Minn. – A day after shooting a tournament-low 66, Clay Kucera needed a late eagle and a pair of key up-and-downs to save par, shooting a final-round 72 Wednesday, fighting off multiple charges from both Van Holmgren and Andrew Israelson to earn his first state victory at the 116th Minnesota Golf Association State Amateur Championship at Somerby Golf Club.

Overcoming a rocky start to the final round, Kucera dropped his eagle chance from 30 feet at the par-3 15th and scrambled to save par at the 16th and 17th, extending his lead to two strokes before a par on the final hole made him the first player since Eric Deutsch in 2004 to win the championship after making the field as an alternate.

"This is big for confidence," Kucera said of his win Wednesday. "I've played well in some tournaments, but haven't found myself on top of the leaderboard at the end of the day. To win in a field like this, which is full of great competition, proves that I can do that against the best players in the state.

"My swing has been close and my short game has been getting better over the last couple of weeks. It all clicked this week and the course fit my eye when I came out for the practice rounds."

The 20-year-old Kucera traded two bogeys with two birdies over his first four holes before stumbling with back-to-back bogeys at the sixth and seventh holes. An up-and-down at the eighth kept Kucera tied with Israelson and provided some momentum to the final nine holes, where Kucera made consecutive pars before his eagle at 15.

"I hit a good shot in [on No. 8], the wind just blew it off a little bit. I read it like a putt, had a good line and was trying to make it. I cleaned it up and that's where the round kind of got going," he said.

"I got a little more comfortable," Kucera said of beginning his back nine Wednesday, shooting 7-under 29 the day before. "I was able to hit some greens and got the putter rolling a little bit."

Watching Holmgren hit a 3-wood inside of six feet at the short par-4 15th, Kucera opted for driver and rolled his ball to the back edge, right of the cup. Dropping his right-to-left breaker, Kucera regained a one-shot lead before increasing his lead at the par-3 17th.

Israelson's tee shot landed short of the green and rolled back into the penalty area. He wasted little time taking off his shoes and punched his second out to the middle of the green. Both Israelson and Holmgren two-putted for bogey to fall two shots back of the lead.

"Going into 17, I still had tee honors, which is kind of love-hate because you want to go first and lead the way, but the wind started to pick up and I wasn't too sure how to play it," Kucera said. "It rolled just off the front and it was a pretty easy bump-and-run."

Reaching the final green in two, Kucera three-putted from 40 feet to collect his first state victory, shooting 7-under par 209, claiming a one-stroke victory over Holmgren and Israelson.

Kucera's win Wednesday is the best finish at a state championship since he placed fourth individually at the Class AAA championship in 2016 as a junior at Chaska High School.

After six years of varsity golf in high school, Kucera began his collegiate career at College of the Canyons in Santa Clarita, Calif., before transferring to Iowa Western Community College this season, where he played in all five events and broke a program record by shooting 64 at the Klocke Family Classic to notch his only top-10 finish. Kucera will now transfer to Colorado State University-Pueblo for his junior and senior seasons.

The defending champion Holmgren posted an opening-round 68 to take the 18-hole lead, saying winning the championship a year ago only made him hungrier to win another. Unable to convert multiple birdie and eagle chances during the final round Wednesday, Holmgren fell one stroke short of becoming the 10th player in championship history to successfully defend his title.

"Before the round I knew I needed to beat the course and shoot a low number. I didn't want it to be a question whether I won or not and I had to leave everything out there," Holmgren said. "I was walking fast with a mission in my mind. I knew what I needed to do and had the momentum to do it. The putts just weren't falling.

"To shoot 66 like Clay did, you have to put yourself below the hole from anywhere in the fairway just to give yourself a chance to make putts and get on a run of three or four birdies. I put myself in position to do that, which was really exciting, but I didn't finish off the holes. I love playing on big stages like this and I happen to play well when there's a championship on the line."

Another strong championship for Israelson furthers the argument of his status as one of the state's strongest amateur golfers. With five state victories to his credit prior to this season, Israelson began the summer by advancing from U.S. Open Local Qualifying at StoneRidge Golf Club before defeating Parker Reddig to claim his first MGA Players' Championship.

Israelson came up shy of becoming only the third player to win the Players' Championship and the State Amateur in the same season. Tom Lehman was the first in 1981, followed by Andrew Paulson in 2006 and Trent Peterson in 2008.

"I thought the pins were the most difficult today. I struck the ball really solidly and put myself in good positions. I was leaking oil and the end," Israelson said. "It stinks I didn't get a win this week, but it's a good thing to build off of. You learn a lot of lessons out there and you learn a lot more from a loss than you do from a win.

"I really like where my game is at, I'm trending in the right direction. I drove the ball really well and was more confident with driver this week than I have been this whole summer. I managed myself really well."

University of Kansas golfer and former Minnetonka High School standout Ben Sigel tied a tournament-low Wednesday, shooting 6-under 66 to jump into a tie for fourth place at 2-under par 214 with University of Minnesota golfer Noah Rasinski and Florida State University's Parker Reddig.

Ian Simonich, who will be a junior at Moorhead High School this fall, finished in a tie for seventh at 1-under 215 with Troy Johnson, who carded a final-round 70 Wednesday.

The 117th MGA State Amateur Championship will be contested at Edina Country Club.