A Late Eagle Secures Second Straight Minnesota State Junior Girls' Title for Kuznik
July 10, 2019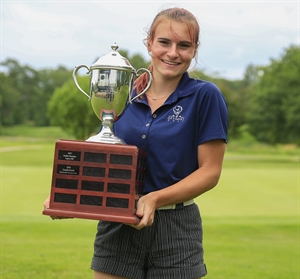 By Nick Hunter
nick@mngolf.org


APPLE VALLEY, Minn. – Entering the final round of the 74th Minnesota State Junior Girls' Championship one shot off the lead, defending champion Camille Kuznik chipped in for eagle at the 12th hole, helping her to a round of 73 and a four-stroke victory at 3-over 144 Wednesday at Valleywood Golf Club.

With her win Wednesday, Kuznik becomes the first back-to-back winner since Celia Kuenster's victories in 2011 and 2012, and only the 12th golfer to successfully defend her title since the tournament's inception in 1939. Laura Olin is the tournament's only winner of three straight championships (2000-02).

"I was not expecting to come back and win. I wanted to come in and play the best I could and I ended up doing that again," Kuznik said Wednesday. "Since I won last year, I was really looking forward to this tournament and boosting my confidence for the summer because I have a few big tournaments coming up.

"I was really hitting my irons and my driver well, which is good for me because my driver's been a little inconsistent lately, but I seemed to figure it out. My chipping was really what pulled me through. I had a lot of good chips and chipped in for eagle today. I was just trying to get it close. It was a big surprise to make it."

Playing her front nine at even par to open the championship Tuesday, Kuznik was tripped up by back-to-back bogeys at the 13th and 14th holes before carding a final birdie at the 15th to finish the first round tied for second one shot off the lead with a round of 1-over 71.

"Yesterday I was hitting driver on holes I shouldn't have been hitting driver," Kuznik said. "I tried to play a little safer today. I played good yesterday, so there was no reason to take the risk."

In wet conditions for the second consecutive day, Kuznik got off to a sluggish start playing in the final grouping during the final round Wednesday, carding three bogeys over the first eight holes before narrowly missing an eagle putt at the ninth, tapping in for birdie to turn at 3-over for the tournament.

"I was a little disappointed, I wanted to play better at the start. But I did not give up. I knew I could make birdies—just because they lengthened it today didn't it make it that much harder. I wanted to go out and make putts, which was not really working for me today," Kuznik joked.

Unable to get her par putt to fall at the 11th, Kuznik dropped back to 4-over overall, but bounced back quickly when her chip from short of the green at the par-5 12th rolled up to the cup and dropped for eagle, moving her to 2-over for the tournament and into the lead.

"[Eagle on No. 12] really boosted by confidence," she said. "I needed something—a birdie or eagle. I'll definitely take an eagle."

Nearly holing out from the fairway at the 16th for birdie after missing the green short, Kuznik's par save rolled past the cup as she dropped back to 3-over for the tournament. With a pair of pars over the final two holes, including a lengthy two-putt at the 18th secured a four-stroke victory and her second straight win at the event.

"By the end of the round I was pretty nervous, especially on that last putt. That was one of the longest putts I made all day," said Kuznik, who will be a junior at Orono High School this fall. "I wasn't trying to make birdies the last few holes, I just wanted to make par and get through it.

"I thought I played pretty good yesterday and was hitting the ball good and this morning [on the driving range] I was also hitting it good. I was thinking I didn't need to try to make birdies all the time, make pars and move on. Try not to do anything too crazy."

Kuznik said Wednesday's win will give her some momentum when she travels to compete in the Optimist International Golf Championship at Trump National Doral Resort and Spa in Miami, Fla., July 26-31.

Aayushi Sarkar opened the championship with a round of 2-over par 72 Tuesday. She followed it with a 5-over 76 during the final round to finish in second place at 148. (The 12th hole was lengthened from a 265-yard par 4 in the first round to a 460-yard par 5 in the second, which is why the course played to a par of 71 on Wednesday.) Madi Hicks, who posted 71 on Tuesday to share second with Kuznik, shot 79 on Wednesday and tied for third with Kathryn VanArragon, Emma Welch and Leah Skaar at 150.