Anderson, Carlson and Neuberger Even to Begin 99th MGA Senior Amateur
September 15, 2020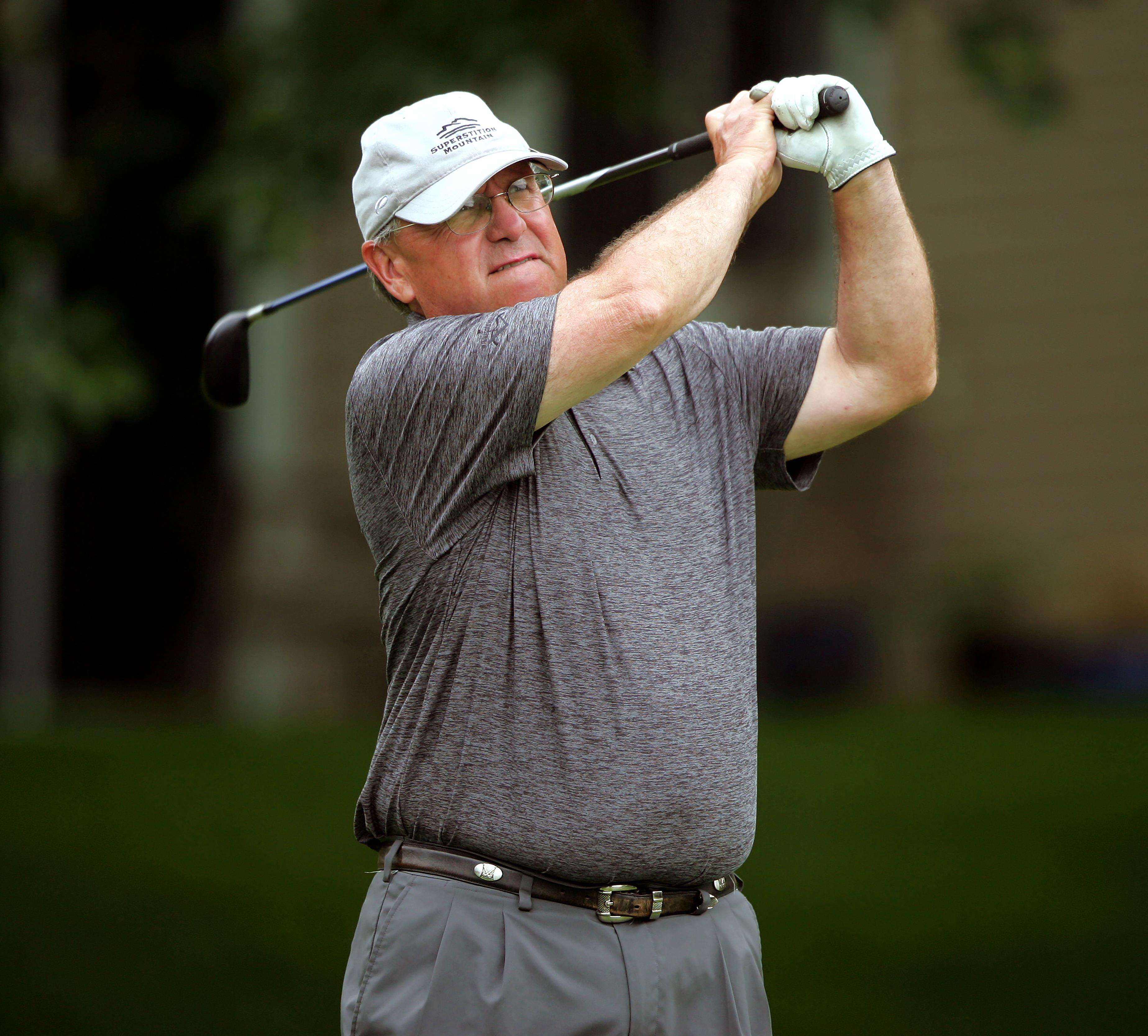 By Nick Hunter
nick@mngolf.org


MINNETRISTA, Minn. – Stumbling to close out his front nine Tuesday, John Anderson rallied with four birdies over his final nine holes to card an even par 72 and earn a share of the opening-round lead with Leif Carlson and Bob Neuberger to start the 99th Minnesota Golf Association Senior Amateur Championship at Burl Oaks Golf Club.

Carlson, who overcame back-to-back bogeys to begin his first round Tuesday, will enter Wednesday's second round tied for the lead with Anderson and Neuberger, who is playing in familiar confines this week on his home course.

"My irons were really solid in this wind—that was the key. I hit solid shots that held their lines and had the right weight on them for the most part," Anderson said following his round Tuesday. "I had one bad swing on the front nine and made [double-bogey]."

The 61-year-old Anderson has collected nine state victories since 2002, but as one of the state's most consistent players, he's posted over 30 top-5 finishes during that stretch.

The 2016 MGA Senior Men's Player of the Year, Anderson started the scoring with a birdie at the fourth, rolling in a 4-footer, before an errant wedge shot at the fifth led to a double-bogey. He would finish his outward nine with back-to-back bogeys at the seventh and eighth holes to turn in 3-over par for the day.

But Anderson quickly got to work during the final nine holes, rolling in an 8-footer for birdie at the 11th, and adding a pair of birdies from 15 feet at the 13th and 16th holes. Anderson claimed the early outright lead on the final hole when he dropped a 10-footer for birdie to post an even par 72 on the opening day of competition.

"If I can keep my iron game [like today] I'll be good. My game has been good this year and I think it's in a good place."

Prior to his win at the Twin Cities Senior Championship in August at Brackett's Crossing Country Club, Anderson's most recent win came in 2009, when he claimed the Minnesota Senior Open and followed it with a win at the Minnesota Public Golf Association State Public Links Championship.

Along with a win at the MPGA Four-Ball Championship, Anderson has also notched a pair of wins at both the MPGA Combination Championship and the MGA Amateur Team Championship. His first state victory came at the Twin Cities Championship in 2002 at Theodore Wirth Golf Course.

Carlson, who finished first in the 65 and over Master Division last season, battled back from two bogeys on his first two holes to finish in a tie atop the leaderboard to put himself in position to claim his first Senior Amateur Championship since 2010.

"Birdying three and four after bogeying one and two, so that got me back to where I felt like I wasn't fighting everything," Carlson said. "I hit the ball pretty good—I had a couple irons that weren't very solid. I left some birdie putts short, but I played better on the back nine today."

Following his rocky start Tuesday, Carlson nearly aced the par-3 third hole before he rolled in an 8-footer at the fourth to get back to even par. He birdied the par-3 seventh by sinking an 18-footer from the fringe, but would turn at even after a bogey at the eighth.

Carlson took bogey at the 11th, but again nearly aced the par-3 15th, sinking a 4-footer for birdie and would finish his day at even par 72.

"[At the turn] I knew I had to hit the ball better off the tee, which I did," he said. "I hit more greens on the back and a lot of solid shots. You've got to keep the ball in play. It's not that long and it's a matter of hitting it in spots that you can get to the green and not be scrambling."

With his last victory coming in 2017 at Burl Oaks at the MGA Senior Four-Ball Championship with partner Greg Murphy, Carlson is in search of his seventh state victory this week. He won his first Senior Amateur Championship in 2008 at Woodhill Country Club before adding a second win at the event in 2010 at The Minikahda Club.

Neuberger used every bit of his home course advantage Tuesday, carding two birdies through 14 holes before setbacks at the 15th and 16th holes dropped him to even par for the tournament. Neuberger carded a par at the par-4 17th before rolling in a 6-footer to save par at the last to join Anderson and Carlson in front of the field.

When the championship resumes Wednesday, Anderson, Carlson and Neuberger will take a one-stroke lead over Mark Sperling, Jay Gregory, 2011 champion Steve Whittaker and four-time champion Jim Lehman.

Lehman, who won his first Senior Amateur in 2013 and followed it with his second a year later, bounced back from a bogey at the fourth by rolling in a short birdie chance at the fifth to pull even for the round.

A two-time MGA Senior Men's Player of the Year, Lehman sank a 25-footer for birdie at the par-4 eighth and would turn in 1-under before carding a pair of bogeys over his final nine holes to finish the first round in a tie for third with Gregory at 1-over 73.

"I played a solid round of golf with three bogeys and two birdies," Lehman said Tuesday. "I had a couple of birdie chances that I was a little tentative on and a couple three putts.

"You've got to hit a lot of good shots on this golf course. It's tight and you've got to hit good irons because it's hard to get the ball close to the hole at times. Getting the ball in the fairway is key—that's kind of my game. I usually hit it fairly straight, so I wasn't hitting out of the rough very much."

Following his back-to-back wins in 2013 and 2014, Lehman ran away with the championship at Golden Valley Country Club in 2016 and picked up his fourth win in 2018 at Bemidji Town and Country Club.

The 99th MGA Senior Amateur Championship continues Wednesday when the second round gets underway at 7:30 a.m. at Burl Oaks Golf Club.