Hazeltine Strikes Gold With Olympic Curlers and the 2028 Ryder Cup
April 10, 2018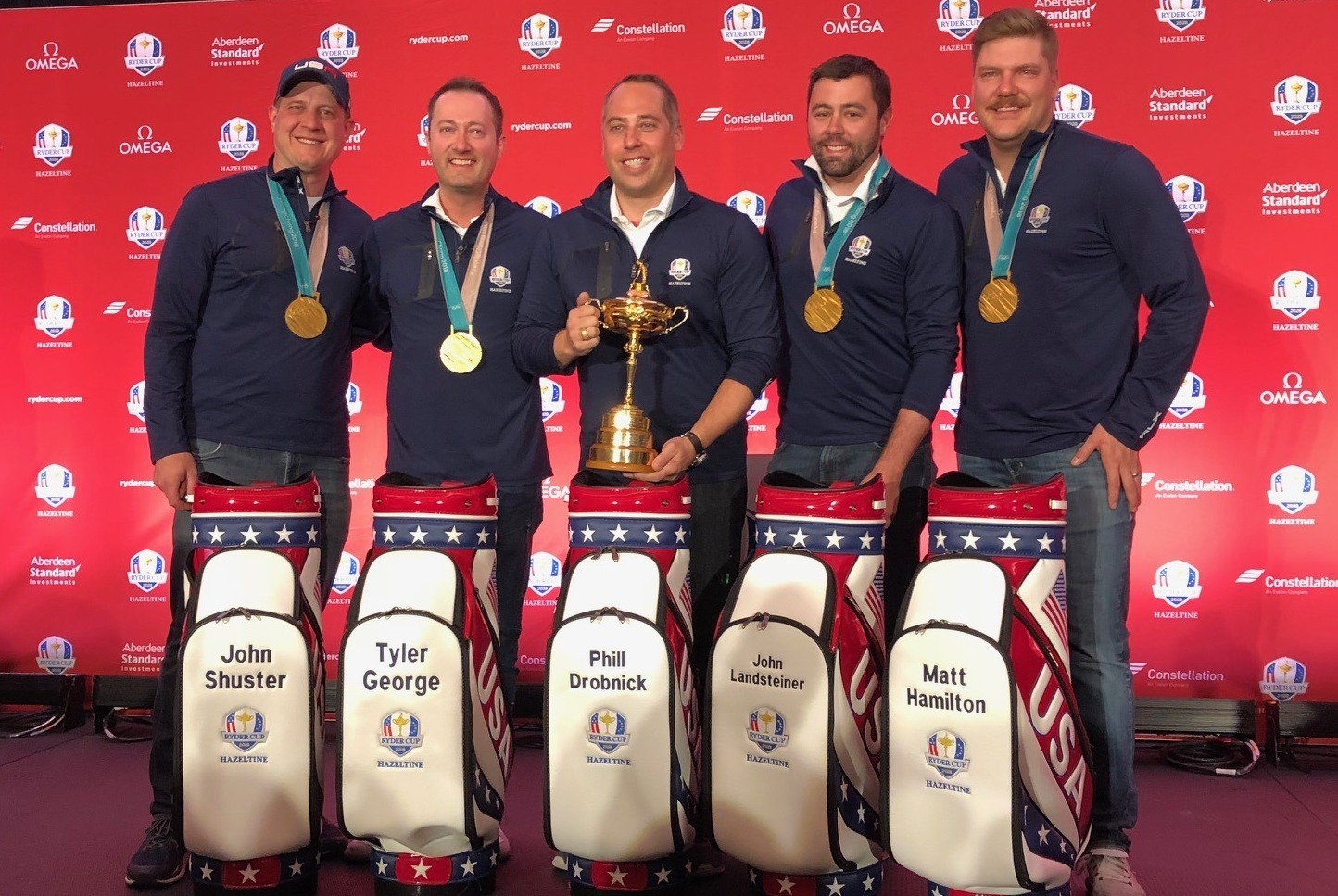 CHASKA, Minn. (April 10, 2018) – The PGA of America announced today that Hazeltine National Golf Club in Chaska, Minn., will host the 47th Ryder Cup in 2028, and will become the only American venue to host a second Ryder Cup.

If this news seems like deja vu it's because the announcement was released on March 26 after a video featuring the gold medal U.S. Curling Team and the iconic Ryder Cup Trophy was posted on social media revealing Hazeltine National as the host site for the 47th edition of the international golf matches.

Five members of the curling team including John Shuster, Tyler George, Matt Hamilton, John Landsteiner and the coach, Phil Drobnick, participated in the press conference. Joining the local heroes were the American Marshals, as well as officials from the PGA of America, HNGC and the City of Chaska.

Kerry Haigh, the PGA's chief championship officer who was involved with the course setups at the 2002 and 2009 PGA Championships, as well as the recent Ryder Cup in 2016, praised the Chaska facility as "the best venue in the U.S. to host an event as big as the Ryder Cup."

Designed by Robert Trent Jones in 1962 and enhanced by his son, Rees Jones, in 2002 and 2005, Hazeltine National Golf Club takes its name from nearby Lake Hazeltine. The par-72 layout blends the rolling hills, lakes, mature woods and prairies of the Upper Midwest and is consistently ranked amongst America's 100 Greatest Golf Courses.

Hazeltine began its tradition of hosting major championships more than 50 years ago. Beyond the most recent Ryder Cup, it has hosted the U.S. Women's Open (1966, '77), the U.S. Open (1970, '91), the U.S. Senior Open (1983) and the PGA Championship (2002, '09).

"Hazeltine National is elated to make history as the first golf club in America to host a Ryder Cup more than once," said Bob Fafinski, President of Hazeltine National Golf Club. "On behalf of our entire membership and the people of Minnesota, we are grateful to the PGA of America for bringing the Ryder Cup back and for its service to the game of golf. We look forward to delivering another world-class event for golf fans throughout the world."

Hazeltine is scheduled to host its third women's major championship, the KPMG Women's PGA Championship, June 18-23, 2019.

Last year, the USGA announced that Hazeltine will host its ninth USGA national event -- the 73rd U.S. Junior Amateur, July 20-25, 2020, in conjunction with the Chaska Town Course, as the two sites did during the 2006 U.S. Amateur Championship.
Four English courses have hosted multiple Ryder Cups: The Belfry (1985, '89, '93, 2002); Royal Lytham & St. Annes Golf Club (1961, '77); Royal Birkdale Golf Club (1965, '69) and Southport and Ainsdale Golf Club (1933, '37).
###