Kim, Nelko Named Ms. & Mr. Minnesota Golf
June 11, 2018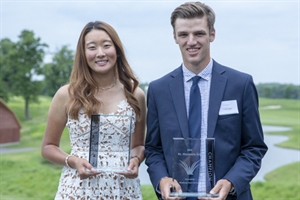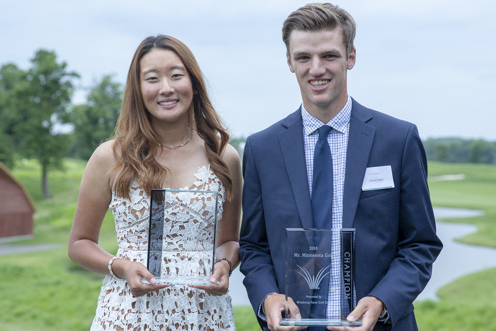 According to the calendar, spring arrived on March 20, all evidence to the contrary. Nearly four weeks later, there were still 12 inches of snow on the ground in the Twin Cities, and it seemed that the 2018 Minnesota high school golf season might never get started.

When it finally did, at the very end of April and beginning of May, players really didn't have any time to prepare for competition. But they have adapted remarkably well, and no one has been more impressive this season than Tristan Nelko. In his first tournament, the Wayzata senior came from five strokes behind to tie for first place in The Preview at Edinburgh USA. He shot a 4-under-par 68 in the second round, and he really hasn't let up all season.

He's won 8 of the 9 tournaments he's played in, and he's averaging just over 70 strokes per round. (The Minnesota Coaches Association website shows his average as 68.4 strokes per round.)

On Sunday night, Nelko was named Mr. Minnesota Golf for 2018 during a banquet at Windsong Farm.

This year's Ms. Minnesota Golf is Joanna Kim. Last spring, she led her Edina team to its third consecutive state Class AAA championship, and she tied for medalist honors with Red Wing's then-sophomore Sophia Yoemans. They both shot 146 at Bunker Hills GC.

When she was asked if winning the individual title at the state tournament served as a springboard for her success this year, Kim said: "Not necessarily."

"You've done something special," she explained, "and that creates some pretty high expectations. So there's some added pressure."

Kim has handled it well. She and Emily Kratz, another Ms. Golf finalist, have led Edina to an undefeated season, along with Kim's younger sister Janice. No team has threatened the Hornets this year. In their secion tournament, they cruised, winning by 65 shots over second-place Wayzata. Joanna and Janice Kim were co-medalists with 36-hole scores of 146. Katz was eight behind in third.

This is the third year of the Mr. and Ms. Golf awards. Unlike her predecessors (Kate Smith in 2016 and Stephanie Herzog in 2017), Kim won't be heading for an NCAA Division I school this fall. She's going to Williams College, a Division III school in Massachusetts.

"I want to be a doctor," she said, "and I think Williams is the kind of school that will provide the best academic preparation for that."

Nelko is committed to Nebraska. He plans to major in Sports Management, but his main career goal is to play on the PGA Tour.

"I just want to be able to work on my game and keep getting better."

He has certainly gotten a lot better in the last year.

At the 2017 state high school tournament, he tied for 30th individually, while helping Wayzata win the Class AAA team crown.

He was hoping to lead the Trojans to another state title, but they lost by a single stroke to Edina (602 to 603) in the Section 6AAA tournament.

"We lost four seniors from last year's team," he pointed out. "I wanted to step in and be the leader this year. Before the season, I thought I would probably be on the Watch List (for Mr. Golf), and I thought I might even be a finalist. But once the season started, I didn't think about any of that. I was just focused on being the best leader I could be, and on helping the team win. I knew that if I could do that, everything else would take care of itself."

Nelko has done about as much as could be expected of him. In the section tournament at The Ridges at Sand Creek, he shot 72-71--143 and was the medalist by five strokes.

Among the reasons he lists for his improvement this season over last -- he won one tournament in 2017 -- is having Windsong Farm as the Wayzata team's home course. Windsong can be stretched to more than 7,700 yards, and Nelko thinks it's probably the hardest course in Minnesota. There aren't too many people who would disagree with him.

When Wayzata plays events at Windsong, the tees aren't set all that far back. But when Nelko -- who averages right around 315 yards with his driver -- goes out for a practice round, he has no qualms about going all the way back and playing the course from the tips.

"Once you've gotten used to playing this course from all the way back," he said Sunday night, "the courses we play in high school competition seem fairly easy."

Another reason for his success this spring is having been co-medalist at The Preview in April.

"It's a really good tournament, and it has the strongest field of the season," Nelko said. "After I won that, I was pretty sure I could hold my own against any of the high school players around here. It gave me a lot of confidence."