Lakeville South Boys Breeze to MGA Junior Team Title; Hicks and Chanhassen Girls Rally to Win
August 7, 2018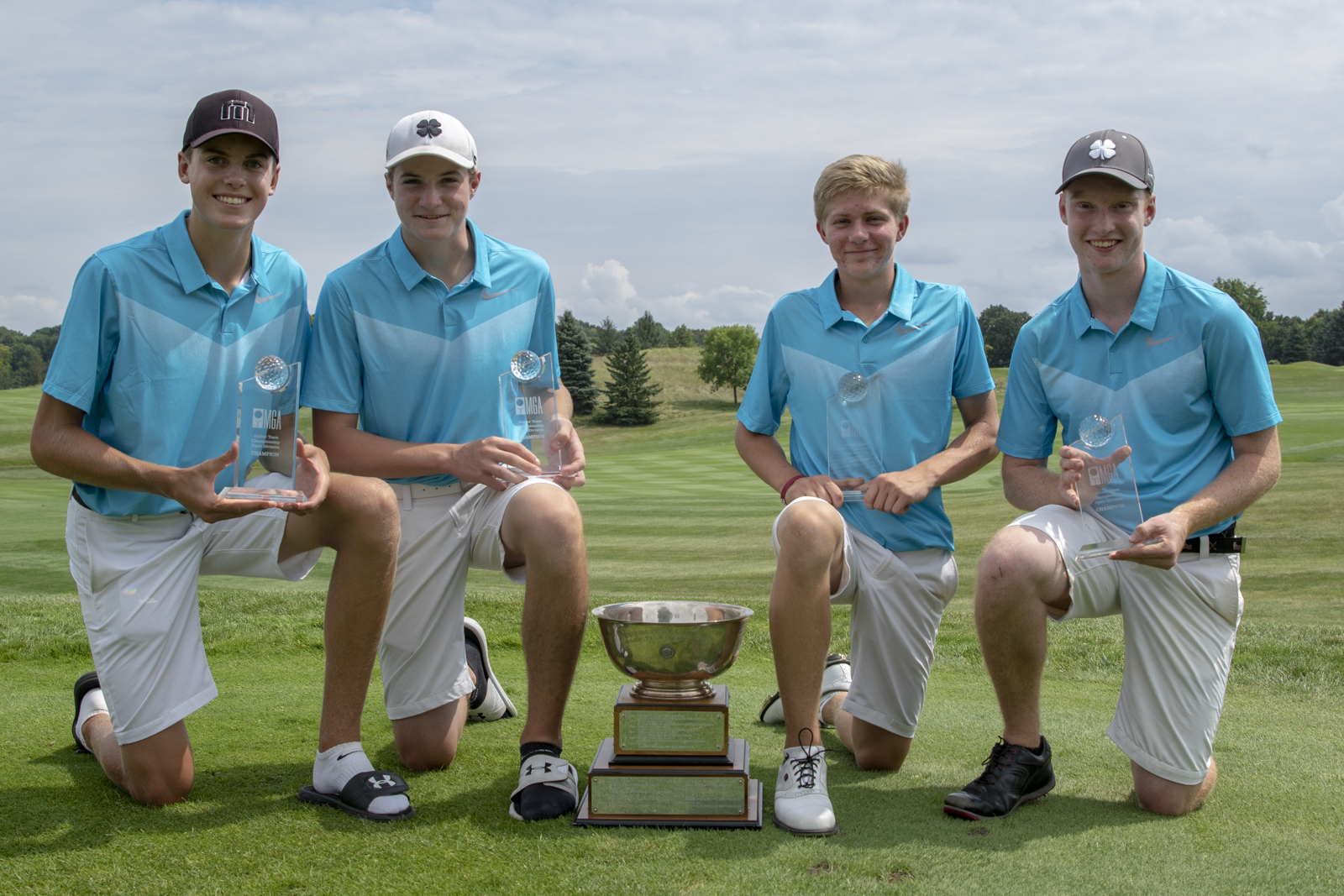 By Nick Hunter
nick@mngolf.org


ST. MICHAEL, Minn. – While Tuesday's performance wasn't quite as dominant as the previous day, the foursome of Gavin Cronkhite, Tim Berger, Kaleb Johnson and John Langlois combined for a final-round team score of 5-under par 211 to earn a six-stroke victory at the 58th Minnesota Golf Association Junior Team Championship at Fox Hollow Golf Club.

"A win is great—I like the team aspect of the tournament, especially since we're all from the same high school, it means there are great things ahead and gives us more confidence going forward," Cronkhite said Tuesday.

After carding a team score of 7-under par 209 to begin the championship Monday, Cronkhite, Berger, Johnson and Langlois, all of whom play at Lakeville South High School, entered Tuesday's final round with a nine-shot advantage over the team of Braeden Sladek, Logan Hamak, Grant Rebrovich and Davis Johnson, as well as the foursome of Tristan and Dylan Nelko, Preston Chan and Brendan Lee, who finished the first day of competition in a tie for second at 2-over par 218.

"We didn't want to hold back and let other teams creep up, so we just tried to keep the mindset to not play to hang on, but play to win," Cronkhite said of his team's mindset entering the final 18 holes Tuesday.

Leading the way during both rounds was Cronkhite, who posted a 6-under par 66 during the opening round Monday, rolling in seven birdies against one bogey. He came back with a final-round 70 Tuesday to finish second overall at 136.

"I did a good job of preventing bogeys out there and our whole team played really steady golf and we were able to get the job done," Cronkhite said Tuesday. "I thought it was a great tournament and the course is in really good condition."

Johnson helped his team Monday with a round of 2-under par 70 before playing the final 18 holes at even par. He would finish fifth individually at 142.

"I thought the pins the first day were pretty easy," Johnson said, "Today they were kind of hard and they tucked them a little bit. I kept the ball in play and hit fairways and greens. The par-5's were easy."

The team from Lakeville South also got a contribution from John Langlois, who would finish in a tie for 12th at 3-over par 147, while Tim Berger posted a 36-hole score of 160 in a winning effort.

Posting a first round of 7-under 65 Monday, Nelko continued his strong play during the 2018 season, earning medalist honors Tuesday following a final-round 69 to earn a four-stroke victory at 10-under par 134.

Nelko, who will begin his freshman season at the University of Nebraska this fall, claimed the Class AAA individual title at Bunker Hills in June to conclude his senior season at Wayzata High School, and would notch a top-10 finish at the State Junior Boys Championship at The Bridges in July.


HICKS LEADS CHANHASSEN GIRLS TO TEAM VICTORY
Spearheaded by Madison Hicks' round of 1-over par 73 Tuesday, the team of Courtney Wedin, Hayley Thompson and Tricia Hemann erased a two-stroke deficit and rallied to earn a four-stroke victory, shooting a combined 36-hole score of 16-over par 304 to claim the 2018 MGA Junior Team Championship at Fox Hollow Golf Club.

"I thought I played really good—I did not hit my driver very good the first day, but my putting saved me," Hicks said. "Today, I hit my driver a lot better and everything kind of came together.

Hicks posted a round of even par 72 to open the championship Monday, getting help from Wedin's round of 79, but the girls from Chanhassen would trail the team of Claudia and Cayla Kim and Alayna and Amelia Simonds by two strokes after the first day of competition.

"We just wanted to play our best today," Hemann said of the team's mentality entering Tuesday's final round. "We weren't playing the people, we were playing the course."

"We knew if we played good and played our game, we could do it," Hicks added.

During Tuesday's final round, Hicks turned in another strong performance and with help from Hemann's round of 80, the Chanhassen girls rallied to a four-stroke victory at 304 to improve on a fourth-place finish from a year ago.

"I didn't play really well, but I definitely came back on the last day," Hemann said. I played 18 [holes] after the round and practiced quite a bit. A lot of summer tournaments are individual, but I like playing team stuff because it feels like our high school team—I like the team aspect. It gives us confidence for next season."

Hicks also earned individual medalist honors by finishing at 1-over par 145, three shots better than Catherine Monty, who fired the tournament's only round below par Tuesday, finishing at 4-over par 148.

Wedin placed 14th at 16-over par 160 Tuesday, while Hemann's contribution helped her to a 15th-place finish at 168. Hayley Thompson finished in a tie for 26th at 181 to help the cause.



Download Full Results: MGA Junior Team Championship Leaderboard 2018 Final.pdf