Late Birdies Lift Burnham and McCauley to U.S. Women's Open
May 3, 2021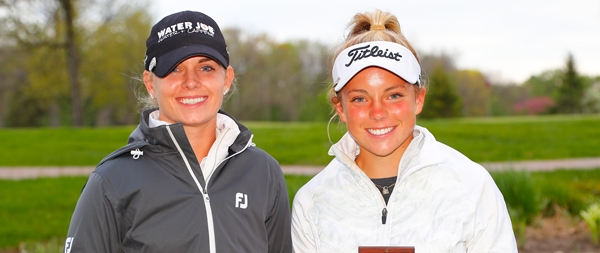 By Nick Hunter
nick@mngolf.org


MENDOTA HEIGHTS, Minn. – Minnesotans Sarah Burnham and Isabella McCauley both rolled in crucial birdies on their 35th hole Monday at Somerset Country Club, helping the two claim qualifying spots for the 76th U.S. Women's Open next month at The Olympic Club in San Francisco.

Burnham, who entered her third season on the LPGA Tour earlier this spring, earned medalist honors by shooting 2-under par 142 and will head back to the national championship after qualifying in 2015.

"In high school I had a goal of playing in the U.S. Open by the time I was 25. I'm now 25 and to have done that twice is amazing," Burnham said. "When I played back in 2015, I didn't know if I'd ever get this opportunity again, so it's pretty special."

Despite a slow start to her second round Monday, McCauley, a junior at Simley High School and the state's top-ranked golfer, played her final seven holes at 3-under and capped it off with an 8-footer to save par on the final hole to claim the second qualifying spot at 1-under 143.

"This has always been a dream of mine to play at this level," McCauley said Monday. "Competing with people I look up to and the best players in the world—I'm excited for the overall experience.

"It was encouraging for me to see being that we're playing from a lot longer and pins are a lot tougher. It's a different setup and almost a completely different game. It says a lot to the practice I've put into it."

A former standout at Wayzata High School and Michigan State University, Burnham paced the field early Monday by shooting 4-under 68, highlighted by a string of four consecutive birdies during her back nine.

"To have those string of birdies gave me some confidence early on, but I knew it wasn't going to be easy. I tried to stay as relaxed as possible. I was the first one off, so I didn't really look at the leaderboard."

Playing her first 11 holes at 2-over par during the second round, Burnham dropped a pair of short birdie chances at the 12th and 13th holes before a three-putt double-bogey at the par-4 14th.

"I knew I had some holes left and just had to keep pushing through," she said. "Luckily, I was still in a good position to finish off the tournament."

Looking for a spark late in her round, Burnham drilled her birdie look from eight feet at the par-4 17th and would hang on for a one-stroke victory despite a bogey at the last to post a 2-over 74 during the final round.

Burnham made seven cuts in 15 appearances during her rookie season in 2019 prior to the 2020 COVID-shortened season, which saw her play 10 events and making a pair of weekend cuts.

After missing the first two cuts of the 2021 season, Burnham finished tied for 75th last month at the LOTTE Championship before a top-27 finish two weeks ago at the HUGEL-AIR PREMIA L.A. Open in Los Angeles. She'll make her fourth appearance at a major championship next month at The Olympic Club.

"I've made two cuts so far this season, so it's nice to have a decent start to the year. I feel like my game is coming together a bit. It was a tough year last year—I only made two cuts all year," Burnham said. "I've been grinding this winter and it's been fun to see my game improve even just a little bit to help to get over the hump.

"It's another major and another opportunity and I think my game is growing in the right direction. I definitely have moments where I'm not sure if I'm making progress or not, so it's nice to see when it's paying off."

With the LPGA in Asia this week, Burnham will return to action May 20-23 at the Pure Silk Championship in Williamsburg, Va.

Carding a 1-under 71 during the opening round Monday, McCauley's start to the second round went in the wrong direction, carding four bogeys on her front nine as she fell back to 2-over for the day.

"It started a little rough and I thought I was out of it for a while," she said. "Then I holed out from 52 yards on 12 for eagle and that was a turning point for me. I saw a couple people make bogeys during the second round and I was able to make a couple birdies coming in."

McCauley rolled in a 30-footer for birdie at the par-3 15th to get to even par for the tournament and followed it by sinking a 15-footer from the fringe at the 17th to pull within one shot of the lead.

Needing par on the final hole to secure the second qualifying position, nerves quickly crept in as McCauley stood over her par putt from eight feet on the 18th green.

"I've never been more nervous on my putt in my entire life than on 18. I was shaking and had to step back out of it," she said.

McCauley shattered the scoring record at the 2019 Minnesota State High School Class AAA Championship en route to a 10-stroke victory. Last season, McCauley won the Minnesota State Junior Girls' Championship before claiming her second straight Minnesota Junior PGA Championship win.

The 17-year-old McCauley will be making her second USGA appearance next month, previously qualifying for the U.S. Girls' Junior in 2019 at SentryWorld in Stevens Point, Wis.

Professional Lindy Duncan, from Plantation, Fla., and Hannah Levi, of D'Iberville, Miss., finished as first and second alternates, respectively.