Sorenstam Surges to 3-Stroke Lead over Neumann in Round 2
July 31, 2021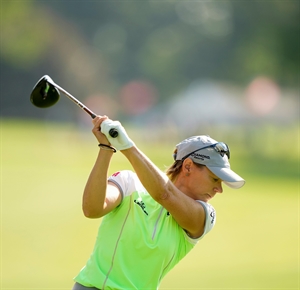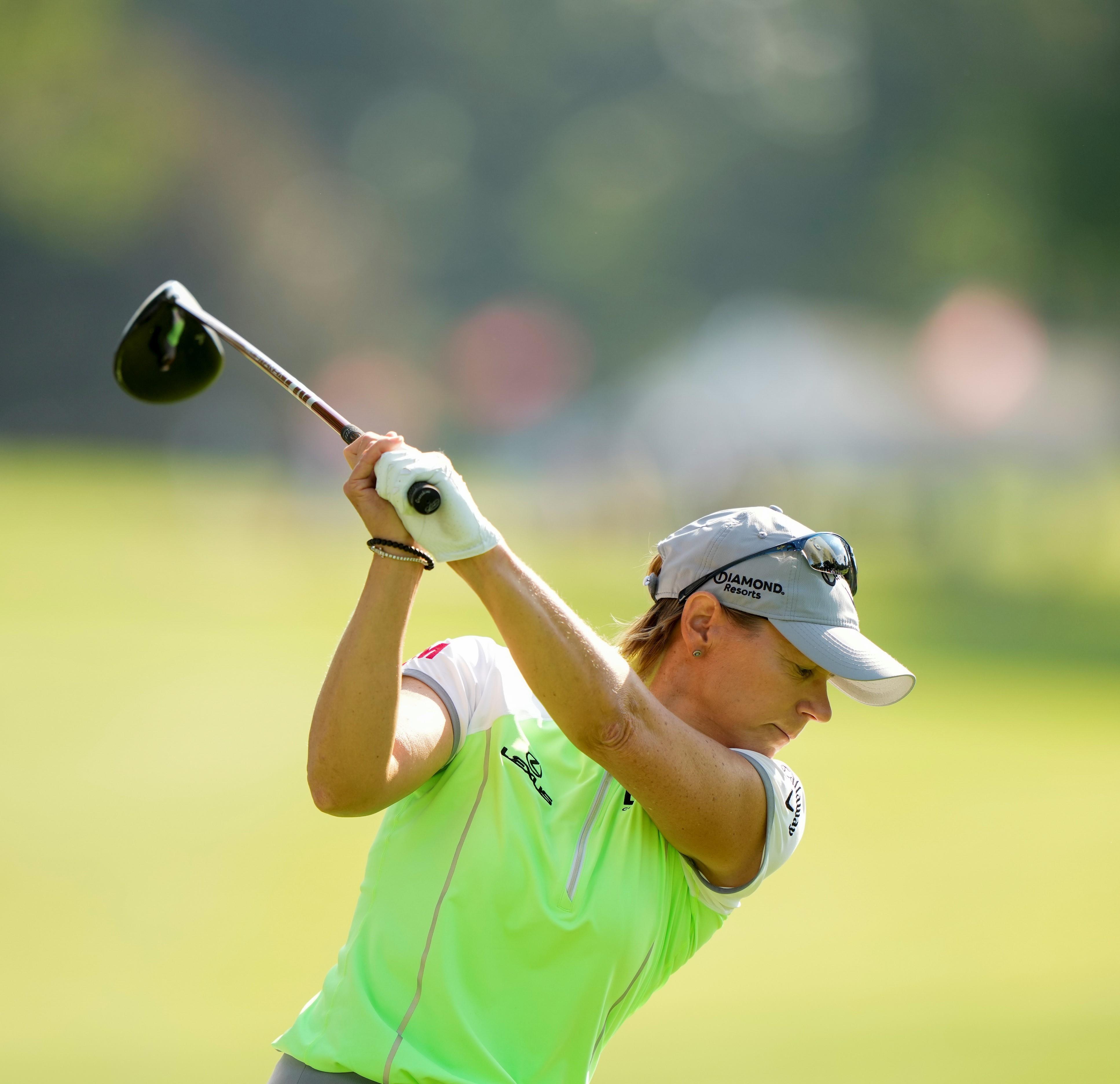 By Ron Driscoll, USGA

FAIRFIELD, Conn. (July 30, 2021) -- Annika Sorenstam continued her strong debut performance in the third U.S. Senior Women's Open Championship, shooting a 3-under-par 69 in rain-delayed Round 2 on Friday at Brooklawn Country Club to take a three-stroke lead over Liselotte Neumann at 8-under-par 136. A fellow Swede and fellow U.S. Women's Open champion, Neumann birdied four of her last seven holes on Friday to match Sorenstam's 69 while playing alongside her.

Sorenstam, a three-time U.S. Women's Open champion who became eligible for this championship when she turned 50 last Oct. 9, demonstrated the ball-striking that helped elevate her into the World Golf Hall of Fame, hitting 32 of 36 greens in regulation over the first two days of the championship to lead the 120-player field.

"I'm super-pleased, I really am," said Sorenstam, whose husband, Mike McGee is caddieing for her, and whose children, Ava and Will arrived at the course partway through Round 2. "The driver today was maybe not as sharp, but my irons were really on spot. Mike and I think we have a good system in trying to figure out where to go, and of course the rain last night makes the greens quite receptive, so I was able to fire more at the holes today."

Ellen Port, 59, a seven-time USGA champion, shot rounds of 71-69 to share third place with Yuko Saito, of Japan, at 4-under 140. Port played with Carol Semple Thompson and JoAnne Carner in Rounds 1 and 2, a group that has won a combined 22 USGA championships.

"I've had a lot of practice with mental toughness and fighting through, trying to score," said Port of recent struggles with her game. "My swing was in a little better place coming into this; it was just starting to trend that way, and you never know it if it's going to all come together. I knew it was at some point; I didn't know if it would be this week."

Saito, of Japan, who finished fifth in the inaugural championship in 2018 at Chicago Golf Club, played the final eight holes of Round 1 on Friday morning, shooting a 2-under 70, then matched her score in Round 2. Saito, who competes in several events on the Step Up Tour in Japan, one level below the LPGA Tour of Japan, was among the top three in the field in putting with 1.61 putts per green.

Dana Ebster, 51, a part-time instructor and junior college assistant coach from Modesto, Calif., who shared the Round 1 lead with Sorenstam at 5-under 67, shot a 2-over 74 in Round 2 to sit five strokes back, in a tie with Kris Tschetter and Rosie Jones at 3-under 141. Ebster, who joined fellow first-time competitors Sorenstam and Nicole Jeray with 17 of 18 greens hit in regulation in Round 1, continued her strong play on Friday after getting into the field as an alternate from the Woodburn, Ore., qualifier.

"People came up to me as I was walking [on Friday] and they were hugging me, saying, 'We loved your interview,'" said Ebster, whose exuberant post-round video interview after Thursday's 67 found a wide audience. "I'm like, Oh my God, you watched it? I didn't know that it was out there."

Defending champion Helen Alfredsson and 2018 champion Laura Davies both finished 36 holes at 2 over par, while two-time runner-up and five-time USGA champion Juli Inkster is at 3 over. Alfredsson matched par of 72 on Friday, while Inkster shot 74 and Davies shot 75.

What's Next
Round 2 will resume on Saturday morning at 8 a.m. EDT, with Round 3 expected to begin at approximately 10:30 a.m. (time subject to change). Rounds 3 and 4 on Saturday and Sunday will be on Golf Channel from 2-5 p.m. EDT.

Notable
Play was suspended for darkness on Friday evening at 8:12, with 15 players remaining on the course to complete Round 2. The cut will be determined on Saturday morning, with the top 50 players and ties moving on. There are currently 52 players at 8 over par or better.

Karen Weiss made the biggest improvement from Round 1 to Round 2, shooting 77-70 to make the 36-hole cut at 3 over. The Afton, Minn., professional competed for 13 years on the LPGA Tour after playing at the University of Minnesota.

Eight-time USGA champion JoAnne Carner, who matched her age (82) in Round 1, bettered it in Round 2 with a 7-over 79, marking the third time she has shot her age in a USGA championship. She will fall short of the 36-hole cut. "I was trying to make the cut but I just hit too many bad shots. I would hit a really good shot and then two holes later I would drop-kick it. It was just very erratic for me."

Much of the pre-championship discussion centered around the challenging Brooklawn putting surfaces. Statistics bore out their difficulty, as Liselotte Neumann led the way among players who completed 36 holes with 57 putts, an average of 1.58 per green. Neumann had 29 putts on the A.W. Tillinghast greens on Thursday and 28 on Friday. Yuko Saito and Sue Ginter totaled 58 putts over the first two days.

Quotable
"They came running down the seventh hole. I mean, I knew from the time standpoint they should be somewhere. You just don't know how the traffic is from the airport to here. Just so glad they got to see the last few holes and give me a little extra spring in my step." – Annika Sorenstam, on the arrival of her two children at Brooklawn on the seventh hole.

"That's what I've been working for, just trying to be somewhere close to the lead going into the weekend, that's what you hope for. I've been trying to spend a lot time on the golf course lately, so I'm extremely happy." – Liselotte Neumann, after completing 36 holes at 5-under 139.

"I'm not sure if I'm going to be with Annika [on Saturday], but I'll be in one of the other groups, which I'm super-excited about because I've seen their names and watched them play, and I'm like, Hey, this is going to be cool. … They're going to be, 'OK, relax. It's just golf.'" – Dana Ebster, on playing in one of the final groups in Round 3.

"About six months ago, I started working with a trainer doing some TPI exercises, and that really has helped strengthen my core, my legs, getting better flexibility, just a better move through the ball. It's funny that after 50 years I'm finally getting this game a little bit." – Rosie Jones, 61, after finishing 36 holes at 3-under 141.

"It's great, I mean, anything that has 'Open' in it. These gals that I'm playing with are so good. I'm not going to pretend to be in their league, but it's super fun that an amateur can still play in an Open." – Ellen Port, on playing well in her third U.S. Senior Women's Open start.

Ron Driscoll is the senior manager of content for the USGA. Email him at rdriscoll@usga.org.