MGA/WSGA Senior Tour Cup Matches
October 1, 2018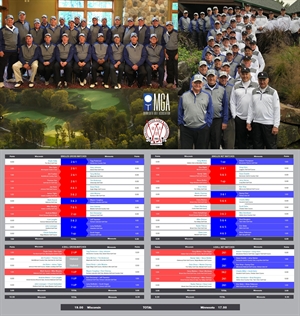 The 2nd Annual MGA/WSGA Senior Tour Cup Matches took place Monday-Tuesday, October 1-2 at Wild Rock Golf Club in the Wisconsin Dells, WI this year. This Ryder Cup style event featured the top gross and net players from both states' 2018 Senior Tour programs. Last year's event held at Troy Bourne Golf Club was won by the WSGA squad by a score of 19-17.

Play this year was delayed a day due to inclement weather on Monday. All of the action was rescheduled for Tuesday with 18-hole singles matches in the morning followed by 9-hole four-ball matches in the afternoon. After the singles matches in the morning, WSGA had a two point lead which they would hold onto in the afternoon four-ball matches to retain their champion status. The final score was once again 19-17.

Congratulations to the WSGA Senior Tour and we look forward to next year's rematch on Minnesota soil!

Click here for complete scoring and results...