Driving Minnesota Week 10 Recap
Monday, August 23, 2021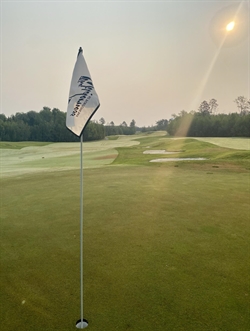 By Josh Miller
If you've been following along the Driving Minnesota Golf Tour, then you know it was basically impossible to beat
last week
in terms of the quantity and quality of golf courses I was able to visit. But I think I may have done it. I'll let you decide for yourself.
I played the following courses, racking up nearly 600 miles.
August 16th: Minnesota National
August 17th: Giants Ridge — Legend and Quarry
August 18th: Wilderness at Fortune Bay and Grand National GC
August 20th: Theodore Wirth
August 21st: Fox Hollow Golf Club and The Links at Northfork
August 22nd: Highland National Golf Course
On the heels of a week in the Brainerd Lakes area, my first visit of the new week was to Minnesota National Golf Course in McGregor, MN. It was one of the courses I was most looking forward to visiting on the tour. After all, it is called Minnesota National, so I was curious to learn more about the past, present, and future of this golf course. This course is on its way to becoming a true jewel in the land of Minnesota golf.
The course was founded in 2008, right before the recession. The vision was for this course to become an elite golfing destination in Minnesota, but financial challenges and other roadblocks stood in the course's way as it tried to build a reputation in the state. Fast-forward to 2021, however, and the course's future is as bright as it's ever been. Under new ownership and new leadership, the course is in the beginning stages of executing a new strategy that includes significant golf course improvements that will place the course in the same conversation as courses such as the Wilderness and Deacon's Lodge. Additionally, there are plans to build modern, beautiful lodging for stay-and-play packages. I got a tour of the new executive home, and it is just beautiful.
I can't wait to see how the future of this golf course unfolds. Boasting a beautiful clubhouse and the second most difficult layout in the state from the tips, Minnesota National has the potential to become a truly great golf destination.
The following day, I visited what is likely the most highly-regarded destination in Minnesota golf: Giant's Ridge. I have played some great courses on tour, and didn't know how a random ski resort in Biwabik could possibly stack up to some other incredible golf courses. But let me say firsthand, Giants Ridge offers some of the finest golf courses I've ever played. It boasts two world-class courses, The Legend and The Quarry, and each offer a superb golf experience. The first course I played, the Legend, is home to what may be the most beautiful hole in Minnesota, the par-three 17th, in addition to the signature bear's paw bunker on the third hole. Each hole offers unique views from the tee and the greens are just pure. This is a must-play course on any trip up to the Northwoods.
I stood on the second tee at The Quarry at Giants Ridge that afternoon and determined, only a hole in, that it was one of the most beautiful courses I've ever stepped foot on.
It's a course that requires precision on approach shots, or else you will likely end up in a bunker 20 feet below the green. The course came in at number four on Golf Digest's most recent ranking of Minnesota courses, and peaked at number 16 in 2012 on their national list of courses you can play. It doesn't get as much national press as courses such as Whistling Straits or Bandon Dunes, but its quality is right there with any course in the country.
The course has holes that accentuate links-style beauty, which combined with features of an old quarry such as rocks and rusty metal makes for a truly unique feel. The course is in such pristine condition that I sincerely felt bad about each of my divots and made sure to replace them fully. I will make sure to get back here as soon as I can.
Following Giants Ridge, I drove up to Tower to play the Wilderness at Fortune Bay. It's amazing to me that a golf course of this quality exists in Tower, about four hours away from the Twin Cities and two hours from Duluth. There is a cohesive theme throughout the entire course that stays true to its Wilderness name. The course is accentuated throughout with purple, yellow, red and green features. Each shot provided a new visual backdrop, and the greens had severe undulation that caused me to have three three-putts. That was kind of a bummer, since I struck the ball well and shot an 80, but I have to respect the course's defenses. It's long and difficult, but extremely fun, and tops many people's lists of courses in Minnesota. GM Ryan Peterson has done an excellent job growing the course's reputation as one of the most interesting in Minnesota.
I was scheduled to continue my trip along Minnesota's north shore with a visit to Superior National in Lutsen before heading down to Lakeview National in Two Harbors. Unfortunately, mother nature had other plans.
I had driven about two hours in the direction of Superior National, through woods and dirt roads the entire way. About 45 minutes away, the road I was supposed to take to the course was closed due to the wildfires up north… so I was stranded in the middle of the iron range where wifi was spotty, but at least I had plenty of gas in my car. I decided to start heading back to the Twin Cities a day early and will try to get up to Superior National before the end of the tour. However, I did stop to play nine holes at Grand National in Hinckley, I briefly checked out Babbitt Golf Course, and made sure to reward myself for driving so long with some famous caramel rolls at Tobies in Hinckley. Prayers out to those in northern Minnesota who may be affected by the fires.
After a day of rest, Friday I began to check out some great municipal and public courses in the Twin Cities. This quest led me to Theodore Wirth Golf Course in Minneapolis, which opened to the public in 1916, making it the oldest public course in Minnesota. Clearly, there is plenty of history there. Immediately noticeable is the club's Swiss-style Chalet, and the views of the Minneapolis skyline throughout the front nine. It might not be Liberty National in New York City, but Minneapolis has golf with a skyline too :)
On Saturday, I visited two hidden gems serving the northwest metro: Fox Hollow in St. Michael, and The Links at Northfork in Ramsey. Both courses are in excellent shape, with most holes in a links style featuring bunker-protected greens. The rough was thick and the greens on both courses rolled well. The par-three third hole at Fox Hollow is visually distracting which makes it tough to score well on, with a river running at a strange angle between the tee and the green. I'm always curious to see how course designers add features that make holes psychologically difficult to navigate. The 5th hole at the Links at Northfork was home to the longest registered hole-in-one in Minnesota history, measuring 341 yards.
Favorite Hole:
It might be a cliche answer, but I can't choose a more spectacular hole than the par-three 17th hole at The Legend at Giants Ridge. This is the hole they feature on all the Minnesota golf commercials, and the steps leading up to the tee box provide a dramatic entrance. I would love to see a tournament come down to the wire heading into the 17th here.
Interesting Person
: Fred Shilpin. A resident of Minnestrista and trained mining engineer, Shilplin's next endeavor is to manage the transformation of Minnesota National Golf Course.
Best Shot
: I had a volatile week of golf scores, as you'll see below, but I really feel that my putting continues to improve each round. That's why, for the first time in Driving Minnesota Golf Tour history, my best shot of the week was a putt on the fifth hole at The Wilderness, a 20-foot double breaker for birdie.
All scores:
Minnesota National: 81 (+9)
Giants Ridge Legend: 81 (+9)
Giants Ridge Quarry: 77 (+5)
Wilderness at Fortune Bay: 80 (+8)
Grand National GC: 37 (+1)
Theodore Wirth: 43 (+7)
Fox Hollow Golf Club: 42 (+6)
The Links at Northfork: 43 (+7)